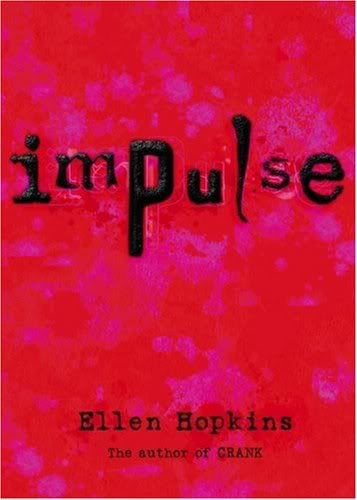 To lighten what will surely be a heavy post, a quote a great 80's movie, "Teenage suicide, DON'T DO IT!" (Brownie points and kudos to you if you get the reference. If you don't, click
her
e
.)
Vanessa, Tony, & Conner meet in a very unlikely place for teens to be. They meet at Aspen Springs, a private psych hospital, because they all tried to off themselves. There are lots of other teens here just like them, but these three manage to form a sort of bond even with gender separation and so many regulations it makes their heads spin.
Their stories unfold in an alternating narrative that Hopkins uses a lot in her prose-written stories.
Vanessa is a stresser. She stresses out about lots of stuff, big and little. In order to help manage her anxiety level, she has become a habitual cutter who slices her self open to deal with her troubles. The release is so intense that Vanessa forgets to worry about crazy mother, MIA father, and the secret deed that haunts her to this day. Unfortunately, this last time she cut too deep and her misery and pain flowed out so much that she almost died. It was almost a peaceful and easy death, except that her little brother walked in. Now Vanessa has to face reality and find a new way to deal with what life throws at her.
Tony never had the stability that other kids complain about. His life was a revolving door of his mother's latest loser boyfriend. The last loser was the worst of all. He ruined Tony's sense of self and forced him down a dark path. Finally tired of selling himself to get his fix and wanting to sleep through the memories of a tumultuous childhood, he took a bottle of pills. Sadly, they didn't do the trick and now Tony must come to terms with his place in life and chose his path.
Conner just couldn't hack it with his family, the pressure of performance, and his failed love life. The push to do better and be better finally got to him when it was uncovered that "the love of his life" did not have the same feelings for him. As a last act of defiance, he blew a rather large hole in his chest. The physical hole was patched up by a top notch medical team, but Conner finds himself at Aspen Springs dealing with the emotional hole that is left behind.
Each has their own story to tell and each struggles through their treatment. Through it all, they share a part of themselves with each other and find the courage to take the next leap; only not everyone lands safely on their feet.
Another fast-paced novel from the master craftswoman Ellen Hopkins,
Impulse
is aptly named. Suicide really is like an impulse that takes control and makes people want to inflict harm on themselves. Hopkins comes through with a breath-taking way of dealing with the issue and isn't afraid to let the true grit shine through. Her characters are quite diverse and represent a pretty good range of the almost 5,000 teens who commit suicide every year.* It is almost eerie to find that you as the reader might share some common attributes with these tormented characters. Vanessa, Troy, & Conner will break your heart, but will move forward with you in tow. An agonizing and harrowing read,
Impulse
is not for the faint of heart.
If you or someone you know is depressed or considering suicide, please call the numbers below. Remember that there are people who love you and want to help you. You are not alone and you can move forward.
National Suicide Prevention Lifeline
: 1-800-273-TALK (1-800-273-8255)
Hopeline
: 1-800-442-HOPE (1-800-442-4673)
There is also a listing of specific types of hotlines
here
. Postpartum (after a child's birth), veterans, teens and more can find specific help at those numbers.
All numbers are for the US, but the websites can point you in the right direction for international numbers as well. Be safe.
*
Source