Welcome back to Nostalgic Friday! Since I love all things historical (culturally, physically, and personally) I do a post on Fridays honoring some awesome book that is a bit older. Many of them are books I enjoyed in my teens and others are books that I discovered as an adult that I think are relevant to YA readers.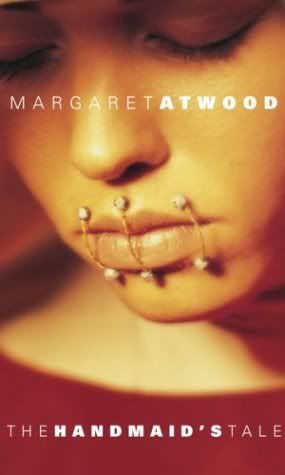 This week I am featuring
The Handmaid's Tale
by Margaret Atwood. It's a dystopian read that I discovered through my sister. She had to read it in high school and when my school never assigned it I got curious.
After a military coup creating the Republic of Gilead from the once powerful United States of America, inhabitants find themselves in a strict, domineering caste system based on the hell, fire, & brimstone from the Old Testament of the Bible. They believe that all their problems (rampant infertility, land deterioration, and an amoral society) can all be solved by returning to their close-minded roots.
What this means in practice for the men and women of Gilead is a complete overhaul of their social hierarchy as they know it. Now, your place in society is determined by your rank within the new infrastructure and the power you wield. Women are even lower in this caste system, as dictated by the ruling body and their twisted sense of ideology, and are subservient to the male figure in their life. While this isn't necessarily awful for most women, for those who belong to the "handmaid" class it is a nightmare. They are used for breeding purposes only, as if they were an animal.
This story is told from the point of view of Offred, a handmaid in Commander Fred's home. As a first generation handmaid, Offred knows what the world used to be like. She used to have a family, consisting of her, her husband, and their child. Now all she is solely cogniscent that it is her "duty and obligation" is to bear a child for the Commander and his barren wife Serena Joy. A mating ritual, involving all three participants, takes place monthly in the hopes of conception.
Offred moves about her daily routine often catching glimpses of things hinting at the existence of a resistance. She is shocked to discover who all is involved. And when the times comes for her to make a decision, she moves with fluidity in her chosen direction.
A shocking and scandalizing tale, this book was a bewitching read. I found myself imagining what it would be like to be in Offred's shoes more often than I wanted to. Her life was quite a miserable existence, but she maintained hope. She clung to memories in her darkest hours and pushed on with life.
It's truly a book about feminism in that the main character is a female fighting in a patriarchal and orthodox society. Her strength and courage is a testament to the power that resides in all of us. We just have to call on it. A mesmerizing read that most will find haunting and captivating,
The Handmaid's Tale
is a classic.