Welcome to my first official Nostalgic Friday! For those of you who missed it, I decided that due to my love of all things historical (culturally, physically, and personally) I would do a post on Fridays honoring some awesome book that is a bit older. Many of them will be books I enjoyed in my teens and others will be books that I discovered as an adult that I think are relevant to YA readers. Friday is my chosen day because I think of it as a day to celebrate the week we just finished.
This w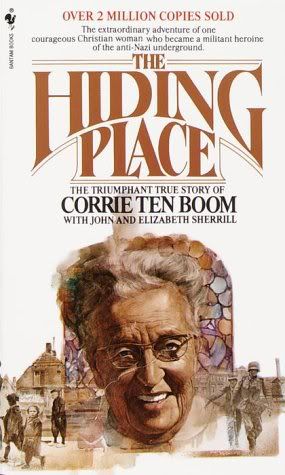 eek's pick is my favorite book. I read it in 7th grade for English class and have re-read at least once a year, every year since. Believe me, that's a lot of times. It is the true story of Corrie ten Boom, a young woman during World War II. Her father was a watch repairman who owned the 100-year-old, family-run shop in the Netherlands. As devout Christians, they spent their lives living peacefully and simply.
When they saw the grave injustices being enacted upon their neighbors and friends, some Jewish and some not, the ten Boom family banded together to help as many as they could. In a way they lived by the premise of the poem, "And then they came for me..." Fighting for those who could not fight for themselves, the ten Boom family helped shelter as many as they could, until they were caught.
Being confined in the concentration camp only fortified Corrie and her sister Betsie's faith. They prayed all the time and fought off the desperation that tried so strongly to capture them. While not everyone made it out, some of the family did. You'll have to read the book to find out who though.
Needless to say, I have loved this book very well. Anything having to do with the Holocaust has always fascinated me and this book was no exception. Corrie ten Boom speaks plainly so as not to make anything sound better or worse than it really was. Her story is just one among thousands, but it stands out because of the way she tells the story. A truly inspiring read that I cannot compare to any other Holocaust memoir.