So I'm back with next next two installments in the Mercy Thompson Series Mini-Reviews. If you missed the first part from Tuesday, just click
here
to catch up.
In this post you will find a very brief synopsis with my thoughts on the fourth & fifth books in this series. Naturally as we moved from one book to the next, there are
spoilers
, so be aware if you don't want to ruin the series for yourself, steer clear now.
Bone C
rossed
You would think after barely surviving the attacks of a demon-possessed vampire that Mercy would decide to take it easy for a while. Although she plans to do just that, by spending more quality time with the ever-tempting werewolf Alpha Adam, some people have other plans for her. Marsilia, the Vampire Queen of the local coven, wants a nice coyote hide to replace her coven member. Since Mercy seems inaccessible to her, she'll go for the next best thing & poke at Mercy's weak points: those closest to Mercy. Can Mercy protect everyone? Who will make the ultimate sacrifice to save another?
This book was intense from the get-go. There is almost no room to breath because there is so much going on with the vampires hunting Mercy, her strained relationship with her new roommate/old boyfriend Samuel, & the tenuous relationship with Adam. Magic is flying all over the place & it was difficult to just enjoy the story. Reading it twice allowed me to get just the facts & then go back & re-read for more of the minutia. A wonderful book, despite my reading hardships. Side note: of all of them, this one is my favorite cover.
Silver Borne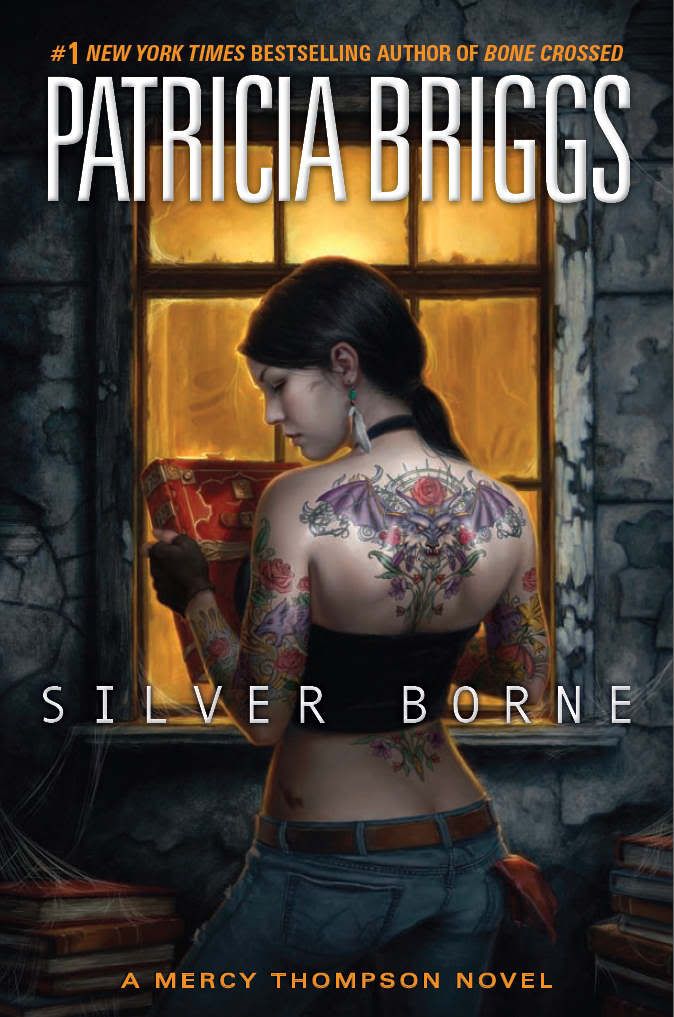 Vampires, fae & demons are nothing compared the an uncontrolled wolf. Mercy was raised by Bran the Marrok (the Alpha to end all Alphas of the werewolves) & grew up in a pack. This affords her a deeper understanding of not only the people, but of their wolves too. When it becomes painfully obvious that Samuel, Mercy's old flame & the son of Bran, is losing the battle with his wolf, she knows she has to do something to protect him from being declared a danger & forfeiting his life. Unfortunately since she still seems to be holding an extremely powerful fae relic, they aren't making her duty as Samuel's friend any easier. Things have been worse, but they'll also been a lot better & time is a wolf's worst enemy.
Silver Borne
really delves deeper into the history & magic of the werewolves. We learn a lot about their livelihood, their culture & what dangers they bring versus those they subdue. Our knowledge of Mercy is also greatly expanded because we meet her father-figure & hear tales of her wild teenage years. While I think the Fae's involvement in this book was extraneous & really should have been trimmed down, I think it was a great read. Not to mention the romance has steadily increased to the point of explosion! Such a fun book!
Check back for my thoughts on the latest Mercy Thompson novel
River Marked
on Monday at 10 AM!