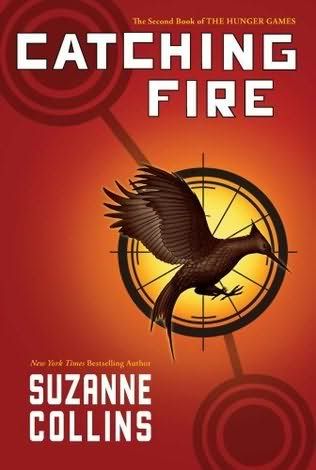 So I know I am a little farther behind then everyone else, but I decided to be patient like a good girl and wait for my copy to come into the library. Let me tell you, it was well worth the wait.
Winning the Hunger Games was nothing like Katniss thought it would be. Instead of being relieved to be home, she is tormented not only by the nightmares about the games, but by the way her life is progressing.
Her berry trick caused such a raucous around the country of Panem, that President Snow is worried about rebellions and uprisings as her actions were seen as a direct threat to the control exerted by the Capitol.
Her relationship with Gale seems irreparably damaged and her "relationship" with Peeta is strained when the cameras are gone. Her mother and Prim are safe at home with her, but she can't seem to shake this feeling that something still isn't right.
When the 75th Hunger Games theme, the 3rd Quarter Quell, is announced everyone is shocked to find that the surviving victors are going back into the arena. Who will come out on top? What will happen with Katniss and Peeta's relationship? It has saved them once, but there are no guarantees now.
A phenomenal sequel to the highly acclaimed
Hunger Games
, Suzanne Collins has quickly returned and immersed us in the world of Panem with her compelling storyline and incredible characters. The scenes are described in such a way that I feel I can actually see what's going on in the book. Check out my review for the
Hunger Games
and keep your eyes posted for the third installment in the trilogy that's due out sometime in 2010!