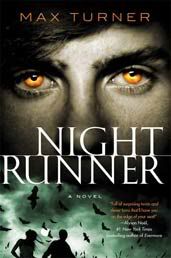 Zach Thomson doesn't know that he's a vampire. Sure he has lived as an orphan in the Nicholls Psych Ward because he has a rare allergy to the sun and every food known to man, but that doesn't make him a bloodsucker. Does it?
So begins the tale of Zach's understanding of himself and the world outside of the Nicholls Ward. After the gruesome murder of his father, Zach slipped into a coma and when he awoke he was suddenly allergic to sunlight and all forms of food. Unable to be cared for in foster care and with no living relatives coming forward to claim him, Zach has grown up with only Nurse Ophelia and his best friend Charlie.
After a crazy incident involving a deranged man and a motorcycle Zach's life is suddenly more exciting than he could have ever hoped. It turns out that someone is after him and it's not a good thing. So Zach is on the run and running out of places to hide. As his misadventures continue he starts to piece together what exactly his father was doing, what his condition is, and how he can keep those around him from mysteriously disappearing.
While I have read worse first novels, this one was pretty bad. I got the feeling the whole way through that the author was skipping important details (like character development and a cohesive plot) that would be divulged in a later book. The storyline was choppy most of the time and just when I felt like I was getting into the characters and a rhythm, the whole thing changed again. I'm hoping that this becomes better as the series goes on. It just didn't do it for me, but I suggest that if you like generic vampire lore (Vlad the Impaler-esque type stuff), then this is definitely up your ally.