Waiting on Wednesday recognizes that we as bookies pine for books. This post is about what I am impatiently waiting for right now. It was started by Jill at
Breaking the Spine
.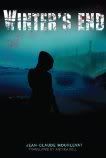 Winter's End
by Jean-Claude Mourlevat is set to be released November 10, 2009 from Candlewick Press.


In a gripping dystopian novel, four teenagers risk impossible odds to fight against tyranny in a world of dangerous choices — and reemerging hope.
Escape. Milena, Bartolomeo, Helen, and Milos have left their prison-like boarding schools far behind, but their futures remain in peril. Fleeing across icy mountains from a terrifying pack of dog-men sent to hunt them down, they are determined to take up the fight against the despotic government that murdered their parents years before. Only three will make it safely to the secret headquarters of the resistance movement. The fourth is captured and forced to participate in a barbaric game for the amusement of the masses — further proof of the government's horrible brutality. Will the power of one voice be enough to rouse a people against a generation of cruelty? Translated from the French, this suspenseful story of courage, individualism, and freedom has resonated with young readers across the globe.
-From
Amazon
This book sounds amazing! Very rarely do teen novels originally written in French get translated for other countries! I am so excited because I love dystopic universes and this one sounds right up my alley. Teens rising against oppressive governments just gets my heart racing. Can't wait.