Welcome back to Nostalgic Friday! Since I love all things historical (culturally, physically, and personally) I do a post on Fridays honoring some awesome book that is a bit older. Many of them are books I enjoyed in my teens and others are books that I discovered as an adult that I think are relevant to YA readers.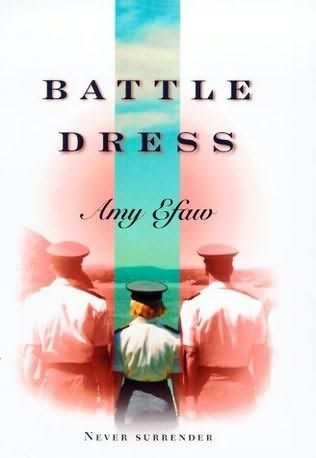 This week I am featuring
Battle Dress
by Amy Efaw. Again, a book I read in high school, but with a twist. I was in an Air Force Junior ROTC at my high school, so naturally I gave the thought of a military career serious thought. This book, while fictional, is written by a West Point graduate. That's right, I had no idea that:
Amy Efaw would later write another book I adore, but that I loved her work from the beginning.
She is a West Point graduate and proudly served in the United States Army.
So I thank her for her service and hope you'll think about picking up this novel.
Andi Davis wanted to escape; escape her abusive mother, escape her resigned father, and escape from a boring, nothingness existence. West Point seemed like the best option for her. It provided strenuous training, promised rigorous academic challenges, and most of all, a way out. All Andi had to do in return for a free college education was serve in the Army after school; and after all she's been through, this should be a piece of cake.
Then Andi arrives at West Point for the first six weeks as known as Beast. This is where a majority of cadets realize what they are in for and run for the hills; but not Andi. While the upper class cadets scream, rant and rave, and use the new cadets as their personal slaves, Andi decides to hunker done and make it through. In the process she learns more about herself, her place in the world, and what she is really made of.
I found this book very real. I mean, the way everything was described made me feel like I was actually there with Andi. If you've ever seen
An Officer and a Gentleman
or seen an "Inside the World of a Military Academy" show you already have a mental image of what is taking place in the book, but Efaw brings it life for you. Andi was a very familiar character and listening to her story unfold was like listening to a friend talk. The other cadets were very well-rounded and balanced as well. No two cadets were alike and it made for very realistic discord. Naturally there will be some trouble-makers in every group and this story was no exception. Yet, in the end, I truly believe that everyone had grown as a person and really found what they were looking for at West Point.
Give this book a chance and I promise you won't be disappointed. And if you haven't already, check out my review of her second novel
After
here
.