Thank you so much to everyone who reads this blog! I didn't know I was garnering as much attention as I was until I was contacted by Katiedoll @
Sophtikated Reviews
, Lily Child @
Lily's Bookshelf
, and Kapri @
Book Fanatics
about two awards I have won!
Katiedoll gave my first award, the Honest Scrap Award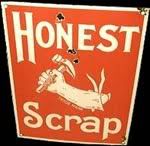 . Words cannot describe how much that means to me Katiedoll, thank you!
The Honest Scrap
award is dedicated to bloggers who write truthfully from the heart. You're then supposed to pass off the award to a handful of other deserving bloggers, and post ten honest statements about yourself. Check back to see who gets this award as I am still trolling for posts!
10 Honest Statements About Me!
I love tattoos! The inspiration for the name of this blog was based on my love of books and tattoos. It sounded unique and I've been working with it ever since.
As much as I love dogs (they are my preferred pet) somehow I have become a crazy cat lady. I have 3 fur babies that are each unique in their own special ways.
I collect quotes. It's a hobby of mine that I have had since I was a child. Movies, books, music, friends, anyone is game.
Je parle francais tres bien. I was a French and International Studies major in college and I love anything Francophone!
Holidays are not really my thing. I like to make crafts for the holidays, but when it comes to the actual day (Thanksgiving, Christmas, etc.) I'm not really all that into it. I guess I prefer the planning to the actual execution.
I married my high school sweetheart. We have been together since we were quite young (I was 14 and he was 17) and for some reason we just seem to never grow tired of one another. We're celebrating our 9th year together and our 1st wedding anniversary in 7 days!
I made a knife and was the youngest member of the North Carolina Custom Knife Makers Guild.

Music speaks to me. Lyrics, rhythms, beats, I love it all. When I am in a particular mood, there is always a song to describe it. I'm still collecting them all. :D
I was in Air Force Junior Reserve Officer Training Corps (AFJROTC) for 3 years in high school and was a commander on the drill team all 3 years.
My favorite colors are blue and purple.
My second award came from Kapri and it was also quite unexpected.
Here are the rules of the "One Lovely Blog Award":
Accept the award, post it on your blog together with the name of the person who has granted the award, and his or her blog link.
Pass the award to 15 other blogs that you've newly discovered.
Remember to contact the bloggers to let them know they have been chosen for this award.
Here's my list:
Whew, what a list! Well, I hope you are as pleased as I am. Thank you so much for the awards, it means a lot. Take care until the next issue!